Halloween Events & Haunted Houses in Corona CA 
If you're looking for a thrill this Halloween season, consider some of our local events to spook up your holiday.
Here's a list of local Corona CA Halloween events for the family.
The ghosts may not be real, but that's all part of the fun!
If authentic haunted places around town are more your style, see our list below of haunted houses and places around town that people believe are truly haunted.
Ghost Walk Riverside
This will be the 30th annual Ghost Walk Riverside by the California Riverside Ballet.
It consists of a walking tour wrapping around a half-mile loop within Riverside's oldest park, established in 1883.
Guests can not only look forward to multiple theatrical encounters with the things that go bump in the night but also the annual crowd-favorite Thriller Dance Production.
The trail ends with a kids' carnival and food court.
Corona Haunt
This haunt has a five-star rating on Yelp and has been going on for ten years.
Their goal is to provide theme-park quality Halloween experiences at no charge to their guests!
This completely free haunted house has also given back to the community with a canned food drive in 2018-2019, in which they donated over 5,000 cans to their Local Settlement House.
Coffin Creek Haunted Village
The Coffin Creek Village hosts five unique haunted attractions:
The Brimstone Asylum for the Criminally Insane
The Catacombs & The Raven Cult
The Curse of VooDoo Bayou
Shady Hollow Hayride
The Dark Realm
These attractions are a bit scarier and are not recommended for children under 12, but the actors will not touch the visitors, and exits are available throughout the haunt.
The attraction comes with legends and lore that add to the experience.
As an added bonus, Coffin Creek is a proud supporter of Magic Wheelchair, an organization that creates fun Halloween costumes for children in wheelchairs.
Image credit: Coffin Creek Village
EEK!VALE
This October 23rd, the city of Eastvale will be hosting a special Halloween festival to encourage community engagement and connection.
From 3 pm to 10 pm, visitors can enjoy great food, treats, music, art, crafts, games, a maze, and other family-friendly fall festivities.
Image credit: LiaNardo Mobile Paint & Sip
Couples' Glow Paint Night
LiaNardo Mobile Paint & Sip is hosting a fun evening of painting, brews, burgers, and a glowing Halloween experience.
This event includes a step-by-step painting tutorial from LiaNardo Paint Studio.
The ticket options offer a paint-only experience or a higher experience that includes a delicious meal from Red Robin.
Couples can paint together on two canvases or paint on a single canvas together.
Tickets start at only $5.00 but be sure to sign-up by 10/20/2021 as seating is limited to allow for social distancing.
Haunted Houses & Places in Corona CA
Only for the brave at heart… or the crazy! LOL!
Image credit: Coronaheritage.org
The Historic Call House at Corona Heritage Park and Museum
The historic 1902 two-story white clapboard house is rumored to be haunted by the Call family.
The haunt's bloody history began in 1913 when A.F. Call was out with his driver in his new car.
At some point in the day, A.F. attempted to drive the car himself.
Local historian Kathleen Dever claims that he was attempting to move it, but because he wasn't used to the gears in the new vehicle, it stalled on a railroad track and was hit by a train. His head was said to have landed 75 feet away from the incident.
This accident follows the death of A.F. Call's son, Merrill, who was killed by the Yaqui in 1905 when he was inspecting the mines in Mexico. The house was relocated to the Corona Heritage Park in 2005, and many believe it brought the restless Call ghosts with it.
Image credit: Sonny da Cuse
Hell's Gate
At the end of a dead-end street in the hills of Corona is an abandoned burn site colloquially known as Hell's Gate.
The site was once a home in the 80's to a couple with two children.
The parents were on vacation for the weekend and had left a nanny in charge of their children, but the nanny was possessed.
She locked the children in the basement, and the house burned down with all three people inside.
Visitors say they've experienced cold spots, objects moving on their own, and toys appearing and disappearing in the basement.
Image credit: rockefellas-bar.com
Rockefellas Bar
Formerly J.J Live Oak Steakhouse and El Cerrito Inn long before that, this local hotspot is said to be haunted by a waitress who was strangled and left in the trunk of a car behind the Inn in 1988.
Her ghost has been said to confuse employees by ringing the food bell at random and flushing toilets at closing time.
The oak tree out front that the former steakhouse was named for is said to have been used for hangings and may also be a source of paranormal disruptions.
Image credit: Enviroreporter.com
Chino Hills Aerojet Facility
Many have claimed to have seen a green mist rising in the evening at this abandoned facility.
Others have seen figures show up in photographs on the site, such as the image of a little girl.
The site has been abandoned since 1995 and spans nearly 800 acres in an underdeveloped Chino Hills area.
Locals claim that the site was once a bomb facility and that the green mist is from radiation in the ground mixing with the fog.
Other rumors center around biker gangs and criminals camping out on the site.
Image credit: villapark.co
Villa Park Dam
Ironically enough, legend has it that the ghost at Villa Park Dam is known to be easily spooked.
Locals claim to see a headless man over six feet tall, heralded by moaning and footsteps.
The ghost is said to be apprehensive towards everyone he encounters and cannot be easily approached.
Image credit: ocparks.com
Yorba Family Cemetery
This site is home to a ghost known as the Pink Lady, who appears at night on June 15th every other year.
Despite her mature name, the Pink Lady is thought to be the ghost of a teenage girl who died on her prom night.
She was wearing a pink prom dress and was killed with her boyfriend by a nearby train.
One local claims to have climbed the fence to hang out in the cemetery, only to be overwhelmed by loud phantom noises. When they fled to the gate, the locks were gone, and the gate was wide open, urging them to leave.
Image credit: viewpointsonline.org
Riverside City College
Students and faculty have reported many strange happenings at Riverside City College.
Doors have been known to open and close on their own, and some even slam shut
A man wearing a suit is said to wander around the Quad building, and a woman's ghost has been seen in the lower parking garage.
Mysterious voices are heard in the theatre and other places on campus, and the site has yielded a lot of success for those attempting to capture EVPs.
Students also claim that faucets and lights will randomly turn on and off in the gym.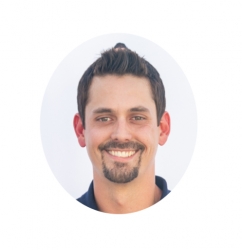 Latest posts by Bob Olson
(see all)