DIY Tip: how to replace your washing machine water hoses
If the water supply lines for your washing machine are old or have begun to leak, you are going to want to replace them as soon as possible.
A faulty water supply hose can cause severe flooding and cost you hundreds or even thousands of dollars in water damages.
Rubber hoses are especially susceptible to wear and tear.
Over time they can develop cracks and can even burst.
If you have had rubber hoses for a while, it may be wise to replace them with braided burst-free hoses before you experience a problem.
Automatic shut-off hoses are also available for additional peace of mind.
It will take you less than five minutes to switch out the water supply lines yourself.
What you'll need:
New steel-braided burst-resistant, or auto-shut-off water supply line hoses 

A set of pliers or Channellock pliers

A rag, a washcloth, or some paper towels
Step One: Shut off the water for the washing machine.
You can usually find the water shut-off valve right between where the two hoses connect to the wall.
If you don't have a shut-off valve here, you will have to shut off the whole house's water supply.
You can find the main shut off valve in your garage, basement, or sometimes (in warmer climates) outside.
Note: The hose on the left is for hot water, and the hose on the right is for cold water.
The washer's back will indicate which hose goes where, so be sure that the new hoses will line up with this.
Step Two: Loosen the connection piece that holds the hose to the wall.
If you cannot do this by hand, you can use a pair of pliers or Channellock pliers. Do this for both hoses.
Once they have been loosened, slowly unscrew them.
There may be some water that leaks out, so be sure to wipe that up with a rag.
Step Three: Remove the hoses from the ports on the back of the washing machine.
Unscrew the connection piece gradually and gently pull the hoses off, taking care to wipe up any escaping water.
You may want to use a washcloth or rag to grip the end of the hose as you unscrew it to catch any water.
Step Four: Gently clean the ports by wiping them with a washcloth or paper towel.
Step Five: Your new replacement hoses should come with a couple of washer pieces–or thin disk-like plates with a hole in the middle.
Use your thumb to press the washers into the ends of the hoses.
Step Six: Connect the hoses to the back of the washing machine and hand tighten them.
Then, connect them to the wall.
Make sure that the hot and cold lines coincide with the labels on the back of the washer.
Be careful not to over-tighten.
Step Seven: Turn the water back on and check for any leaks.
There you have it! In less than ten minutes, you've replaced your washing machine hoses and prevented a would-be disaster.
You may find that a couple of shiny new hoses add to the look of your laundry room as well.
May all your days be leak-free!
P.S. If you need a professional plumber in the Corona-Riverside area, contact us for a free estimate.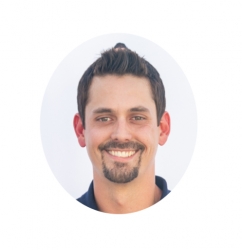 Latest posts by Bob Olson
(see all)